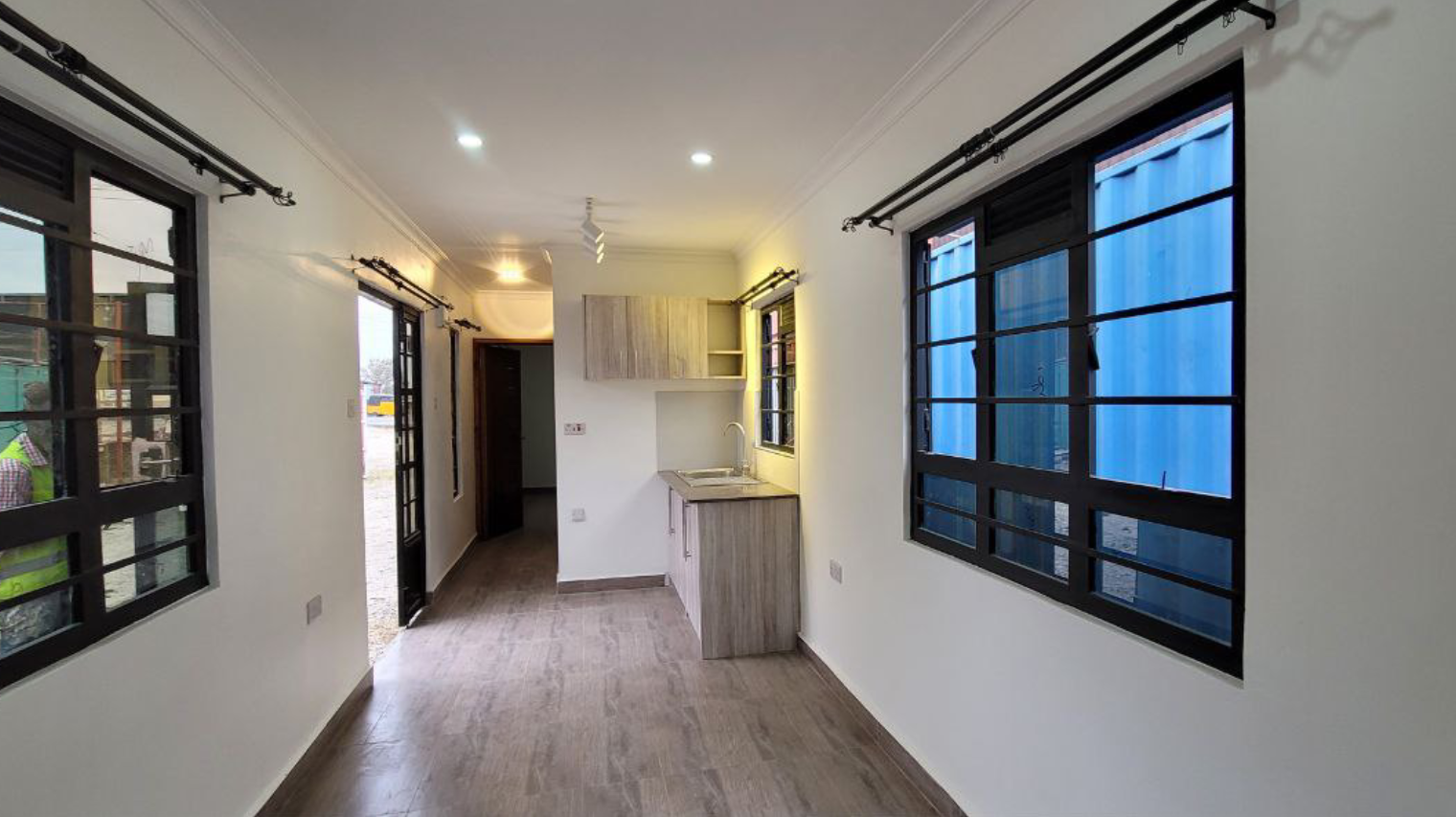 06 Nov

Unveiling the Enigma: A Magnificent Container Home by Containers 254 Ltd

In the heart of the wilderness, where the rhythm of civilization fades into whispers, lies a secret marvel—a container home, born of dreams and crafted with unparalleled precision. This is the story of an anonymous client, a visionary soul who entrusted Containers 254 Ltd with a unique challenge—to transform five 40ft containers into a three-bedroom sanctuary of opulence and elegance.

The journey began with a daring vision, the likes of which had never been seen before. Nestled in the midst of nature's embrace, where roads dared not venture, the canvas was set for a masterpiece to unfold. As our team set forth, determination ran through their veins, for they knew they were about to create something extraordinary.

Every detail was meticulously planned, every aspect carefully curated. The result? A symphony of craftsmanship, a symphony of wood. The interior graced with the warm embrace of mahogany, transforming each room into a sanctuary of comfort and refinement.

As you step inside, you are greeted by a spacious lounge, bathed in natural light, inviting you to linger in its embrace. The open kitchen beckons, adorned with an abundance of cabinetry, a testament to both form and function. It's a space where culinary creativity meets architectural artistry.

In this abode, every bedroom is a haven, an ensuite retreat that promises privacy and indulgence. The pantry space, a sanctuary for provisions, stands ready to cater to the desires of a discerning resident.

Stepping outside, a wood deck stretches into the horizon, a stage set for outdoor moments of tranquility and connection. Power sockets discreetly embedded ensure that every moment spent in nature is accompanied by the conveniences of modern life.

A neat pergola crowns this outdoor haven, adding a touch of elegance to the natural surroundings. It stands as a testament to the marriage of design and nature, a testament to the dedication of Containers 254 Ltd in crafting spaces that are as functional as they are beautiful.

Yet, the true marvel lies not just in the architecture, but in the story that shrouds it in mystery. This is a home unveiled in secrecy, a surprise for a client who sought not acclaim, but the solace of an enigma. For them, this abode is not just a dwelling; it is a sanctuary, a secret, a haven of wonder.

And what of the cost of this marvel? The whole endeavor, from daring vision to meticulous execution, came to a total of Kes 9.5 million. A testament to the value of dreams realized, of visions brought to life.

As we look back on this extraordinary journey, we stand in awe of what can be achieved when creativity knows no bounds. This container home, born from the heart of the wilderness, is a testament to the power of vision, the skill of craftsmanship, and the beauty of anonymity. It is a legacy, not only for its creators but for the soul who calls it home—a legacy that shall forever remain an enigma in the heart of the wilderness.